The growing demand for connectivity and the take-off of new technologies such as 5G has led to a situation in which telecommunications companies must take special care when investing in the roll-out and management of their networks.
To make the decision process easier and more accurate, artificial intelligence has been combined with geolocated information, thus offering a method known as RAN roll-out optimisation. This article sets out the key factors, benefits and how it works in a nutshell.
What is Radio Access Network (RAN) roll-out optimisation?
The concept of RAN or Radio Access Network refers to the component of the telecommunications infrastructure responsible for giving devices (phones, tablets, PCs, etc.) its own access to the core network establishing radio connections.
For this to be possible, several nodes, consisting of base stations and antennae must be properly rolled out. These are managed by focusing on optimising their resources.
It is in this roll-out that RAN roll-out optimisation comes into play, which is responsible for finding the best locations and configurations of the nodes and components that make RAN possible.
Besides the nodes location themselves, factors such as antenna types, their inclination, height, azimuth, etc., are taken into consideration too.
What is the purpose of implementing RAN roll-out optimisation?
The use of RAN roll-out optimisation is based mainly on achieving goals such as:
Total coverage in the area to be reached.
That the quality of the communications is up to the demands of the users. Optimal speed, clear voice and image, without cuts, drops or saturations, etc.
Increase the profitability of the investment made, which means installing the minimum number of nodes to provide a service with the agreed quality.
Minimise network optimisation efforts.
Although RAN roll-out optimisation is a high-value resource for any type of telecommunications system, it has become even more important with the 5G technology roll-out, which at the end of 2020, was already offered by 135 operators in 52 markets worldwide, according to GSMA Intelligence.
This is mainly due to the fact that 5G requires more network nodes for users to experience its benefits, especially in high-demand environments, such as cities.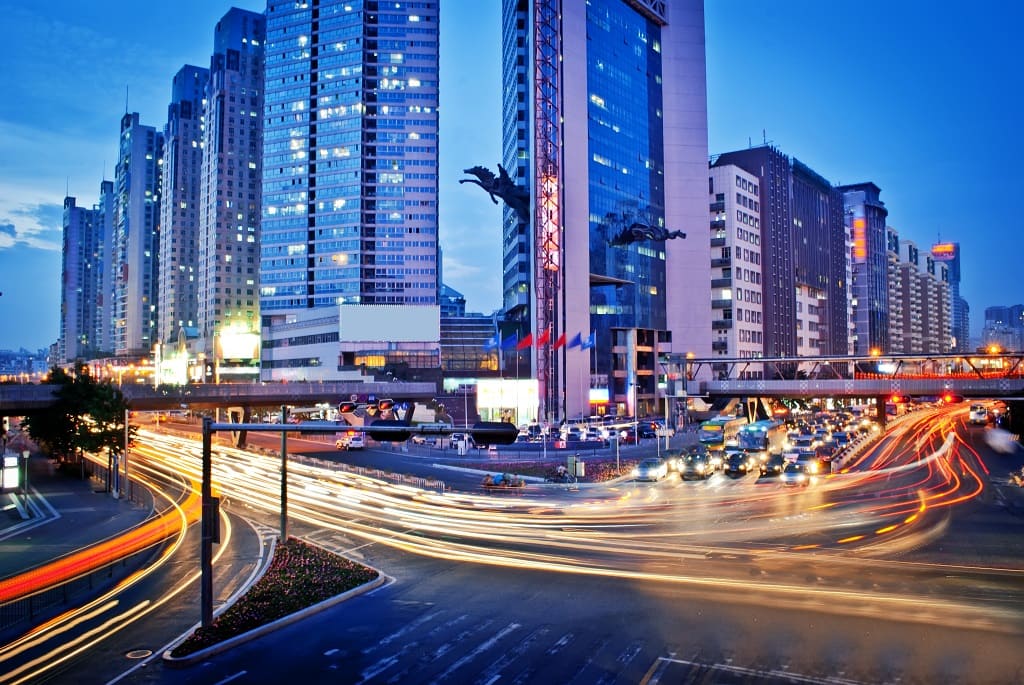 Why go for optimising roll-out of RAN through advanced analytics?
To have a better vision of all the advantages advanced data analytics with artificial intelligence brings in its mission to find the best RAN node locations, we first need to have a better understanding of how it has been done up to now.
We may start with the most basic methodology, which is based on a study of critical points that historically, and still today, have high levels of traffic and congestion, reinforcing them.
If we go one step further, we can introduce the Golden Site concept, which is based on traffic optimisation through the analysis of areas with high ARPU (average revenue per user). Among its main qualities we find:
It offers a simplified approach to the situation, since variables such as those related to user experience are omitted.
Each location is considered independent, regardless of the influence of nearby nodes.
This results in areas where there is overlap in the coverage offered by different nodes, incurring missed opportunities for savings.
A distinction is made between high-value and low-value traffic, however there is no proper end-to-end modeling of the subscriber.
It lacks the ability to predict the future market situation. In other words: it optimises for today's traffic, not for tomorrow's traffic- and this is a fatal flaw, especially in 5G due to the novelty of the use cases 5G is enabling.
To take a further step in the evolution of RAN roll-out optimisation, artificial intelligence algorithms were applied to perform a high-level analysis of a set of data involved. This has resulted in novel and extremely useful capabilities, such as:
Advanced modelling reflects the actual behaviour of each subscriber across all the network.
Traffic is allocated at a more granular level and in greater detail, using smaller cells whose size will depend on the distance between nodes.
User experience is taken into account as a determining factor. Optimisation for User Experience, hence revenue.
It links the network KPIs with the traffic load by observing historical data.
It can reconstruct overnight roll-out plans using a new scenario (i.e., how much would it cost a new roll-out with only Ericsson/Huawei/Nokia as the vendor, etc.).
Provides traffic forecasts to identify overages or investment needs.Compared to the Golden Site method, a 15% saving in CAPEX (Capital Expenditure) can be achieved.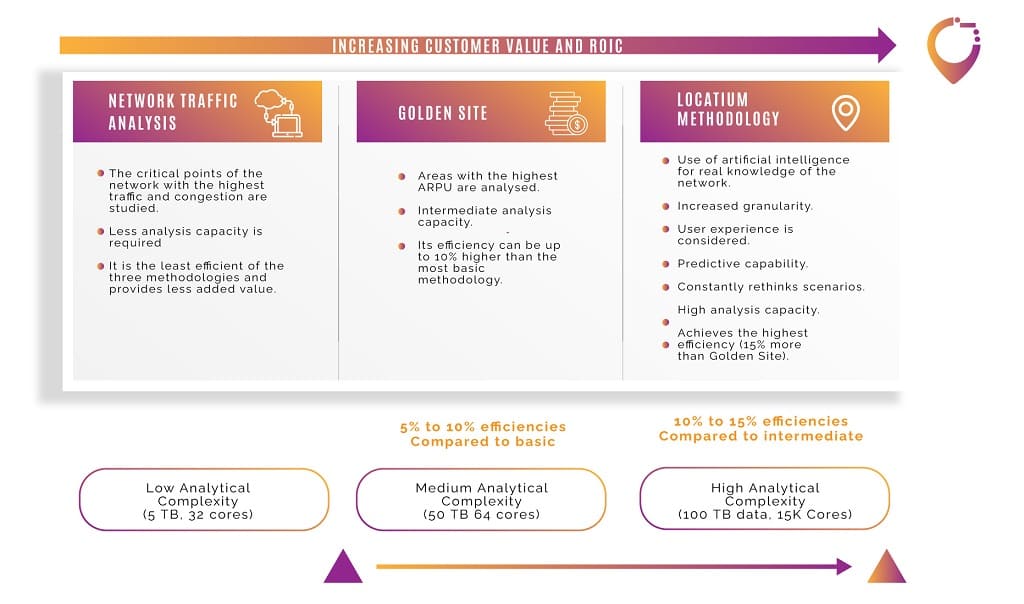 What data is needed?
The operation of the artificial intelligence algorithms that lend meaning to this innovative solution requires various types of information from various data streams, many of which have geolocated data.
These data sources can be of both internal and external origin. These notably include:
Internal data streams:
Call Detail Record (CDR or Call Detail Record) or connection information (xDR or x Data Record): date, time, duration, volume of data used, errors, antennae involved, etc.
CRM (Customer Relationship Management): demographic information on users, consumption, contracted rates, etc.
Inventory of network components: characteristics, physical description, technologies used, location, orientation, etc.Dataset with data involved in the user experience: download and upload speeds, delay, network technologies, etc.
External data streams:
Dataset on people's mobility: location from mobile devices to establish users' travel habits and patterns.
Demographic variables of the general population.
Real estate, to understand supply of and demand for real estate and plots of interest for the roll-out of networks.
With information on planning development projects in the environments analysed, such as new residential, commercial or business projects.
Satellite images of the areas involved.
As we have seen, RAN roll-out optimisation mobile telecommunications operators a remarkable alternative to improve their turnover. If you think this is a step your company should take, Locatium offers you a customised solution based on this methodology.
With this methodology, you will have all data and conclusions available to decide what resources will optimise your network and where to place them for maximum operational and financial efficiency. Sound good? Contact our team and let's start building the future of communication together.